Bihar Student Credit Card Scheme 2023 – Education Department, Planning and Development Department and Labor Resources Department, Government of Bihar Bihar Student Credit Card Scheme (BSCCS) has been started this scheme was started on 2 October 2016 to implement this scheme Bihar Government has established Education Finance Corporation If you want to know all the information related to this scheme then read this article well read like
If you want to get all updates related to Bihar Student Credit Card then visit Bihar BiharJobPortal.com regularly. Here you will also get updates related to Bihar Jobs, admit card, exam date, result, admission, scholarship and scheme.
latest update , Bihar Student Credit Card Scheme 2023 Apply Online through official website only. Before applying students must read the user manual you can read the user manual by downloading it from the link given below
Bihar Student Credit Card Scheme 2023 – Bihar Student Credit Card Online Application
Plan
Bihar Student Credit Card Scheme 2023
Social class
Government. Plan
Right
Bihar Govt.
was launched
02-Oct-16
current year
2023
State
A state in Eastern India
loan amount
up to 4 lakh
apply mode
online mode
official webs

I

Te
Click here
Bihar Student Credit Card Scheme (BSSC)
Many boys and girls are not able to complete their higher education but they all want to get higher education but due to some financial (money) problem it is not possible.
Therefore, the Government of Bihar has provided education loan for the students under the Bihar Student Credit Card Scheme. A student who wants to study polytechnic after passing 12th, such a student Bihar Student Credit Card can apply for
eligibility criteria
Applicant must be a citizen of Bihar
Student should be 12th pass
Applicant age should not exceed 25 years
Students of any class can apply for this
Application for enrollment is enrolled or selected for pursuing higher education in institutions affiliated to the Government of Bihar or any other State Government or the Central Government.
What are the benefits of Bihar Student Credit Card Scheme?
This plan will give you the following benefits –
Under this scheme, the student can get a loan of up to Rs 4 lakh from the bank.
The state government itself guarantees the loan taken under this scheme.
Documents Required for Bihar Student Credit Card
Aadhar card of applicant and co-applicant
PAN of applicant and co-applicant
10th and 12th certificate and mark sheet
Certificate of Admission to Higher Education Institution
2-2 photographs of all students, parents and guarantors
residence certificate
Family Income Certificate and Form 16
Six months statement of parent's bank account
ID of the applicant (Aadhar Card, Passport, Voter ID, Driving License etc.)
How to Apply Online Bihar Student Credit Card Scheme
Here is the step by step complete details for apply online.
Visit the official website – https://www.7nishchay-yuvaupmission.bihar.gov.in/

(Direct Apply Link is Given Below in the Important Link Section)

Click on New Applicant Registration (If you are new)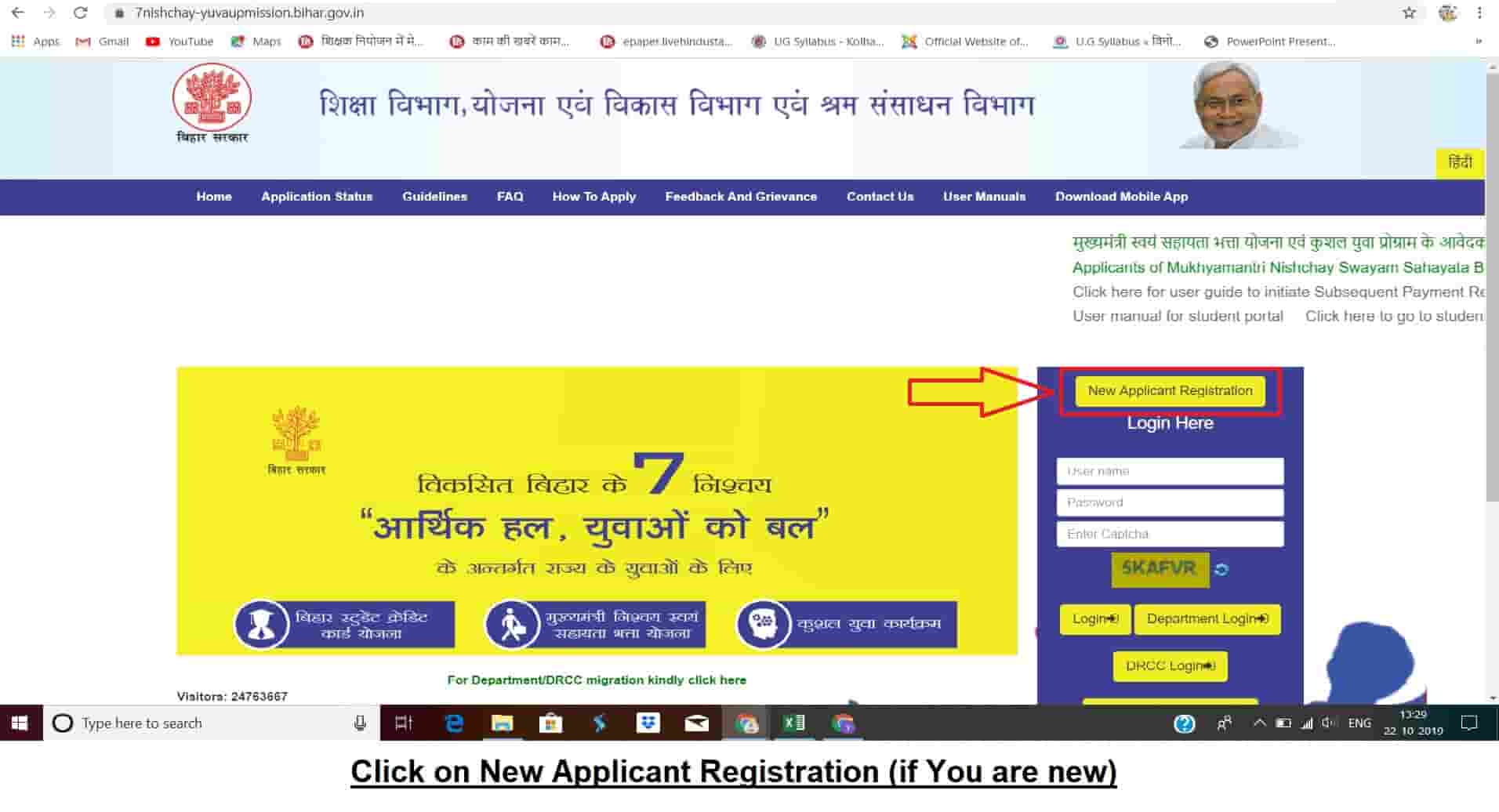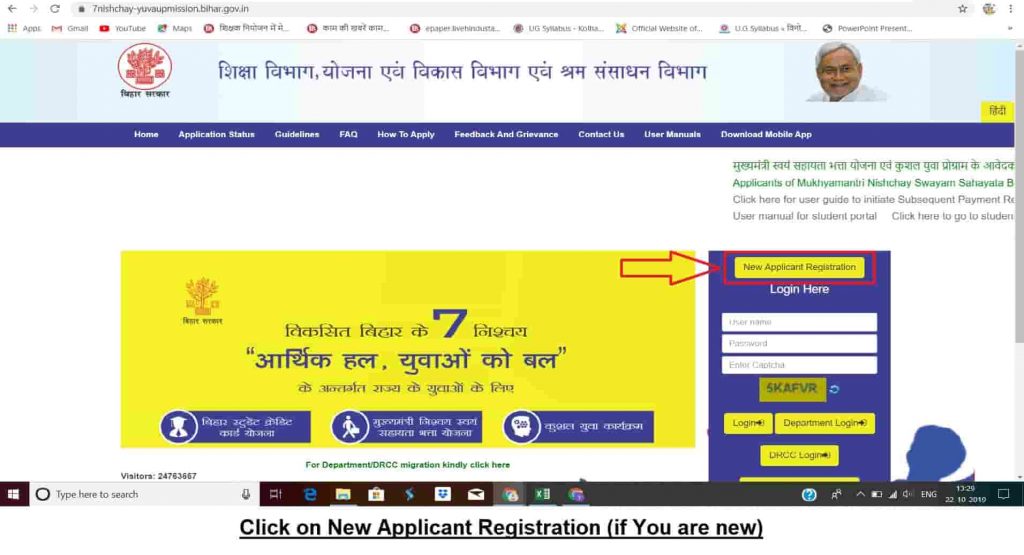 Form Filling for New Registration
"Clicking on

New Applicant Registration

", you will be displayed the registration form
Fill the details given below-

First name as per 10th board.
email id
mobile number
and click on send OTP
You will receive an OTP on the mobile number and email ID provided by you. Enter OTP.
Click on submit button.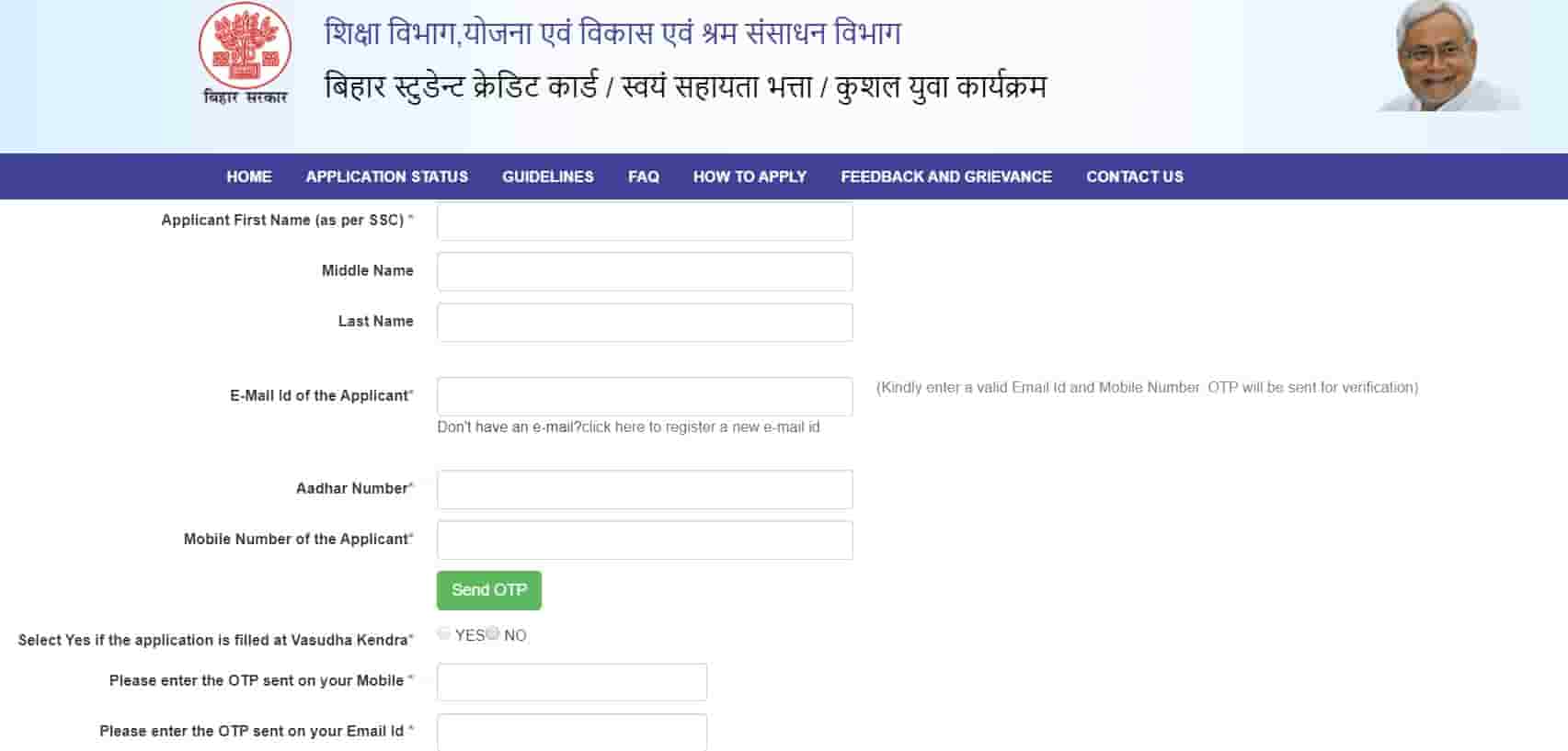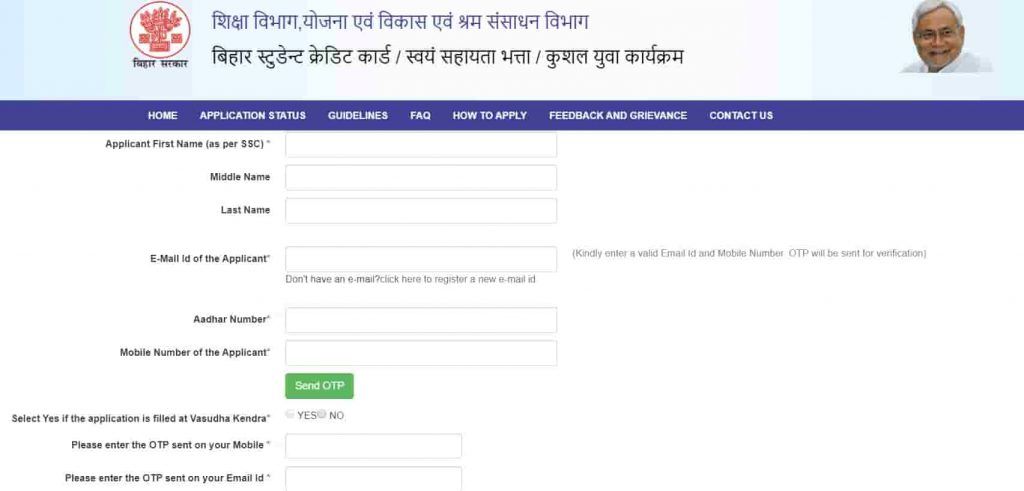 After successful registration. Click "Go to Home Page"
Login and change password.
After the login is done successfully, you need to fill the form completely.

personal information
Educational qualification
address details
and other details.

Finally submit the final application form and take a print out.
Objective of Bihar Student Credit Card Scheme
Through the Bihar Student Credit Card Scheme, the state government wants to fulfill several objectives which are as follows –
Bihar government wants to improve the literacy rate in higher education in the state Most of the students in the state drop out after 10th-12th
The government wants to promote the talents present in the state. By 2023, the target is to bring students across the state under this scheme.
The government wants that the student should not have to go to the bank for the loan.
important link
Please watch the video below to know the complete procedure to apply online –
How to check Bihar Student Credit Card Status?
Follow the steps given below to check the status –
Visit official website
Click on "Application Status"
Select either Registration ID or Aadhaar Card Number.
Enter the number you have chosen.
Now, enter date of birth and captcha.
Finally, click on the "Submit" button.
The status will be displayed on the screen.
Courses under this scheme for approval of student credit card

Plan
There are many courses-
BA/ BSc/ BCom (All Subjects)
MA/ M.Sc/ M.Com (All Disciplines)
alim
Shastri
BCA
MCA
B.SC (Information Technology/ Computer Applications/ Computer Science)
B.Sc (Agriculture)
B.Sc (Library Science)
Bachelor of Hotel Management and Catering Technology
B.Tech/ BE
Hotel Management and Catering Technology
Hospital and Hotel Management
Diploma in Hotel Management (3 Years) (IHM Course)
Bachelor of Yoga (Entry Level +2)
B.Tech/ BE/ B.Sc (All Branches of Engineering)
MBBS
BSc Nursing
bachelor of pharmacy
Bachelor of Veterinary Medicine and Surgery (BVMS)
Bachelor of Ayurveda, Medicine and Surgery (BAMS)
Bachelor of Unani Medicine and Surgery (BUMS)
Bachelor of Homoeopathic Medicine and Surgery (BHMS)
Bachelor of Dental Surgery (BDS)
General Nursing Midwifery (GNM)
Bachelor of Physiotherapy
Bachelor of Occupational Therapy
Diploma in Food, Nutrition/Dietetics
Bachelor of Mass Communication / Mass Media / Journalism
in Fashion Technology/Designing/Apparel Designing/Footwear Designing
cartographer's title
Bachelor of Physical Education (BP Ed.)
M.Sc/M.Tech Integrated Course
Diploma in Food Processing/Food Production
Diploma in Food and Beverage Services
BA/BSc-B.Ed. (Integrated Course)
Bachelor of Business Administration (BBA)
Master of Business Administration (MBA)
Bachelor of Fine Arts (BFA)
BL/LLB (5 years integrated course)
Degree/Diploma in Aeronautical, Pilot Training, Shipping
many instruments
Education Loan for Students under Student Credit Card Scheme
The Bihar government had launched the education loan waiver for students who have taken education loans from banks under the Student Credit Card (SCC) scheme. Under the BSCC scheme loan waiver for students, the government had waived off student loans in case students fail to get jobs after completing their professional courses. On the other hand, if the students get employment, then they will have to repay the loan amount in 82 easy installments. Under the Bihar Student Credit Card Scheme, class 12th pass students can avail loans to pursue further technical or general education and build their career. Earlier on 7 March 2018, the state government constituted the Bihar State Education Finance Corporation (BSEFC) to disburse interest-free loans up to Rs 4 lakh to students.
The Government of Bihar is continuously emphasizing on the importance of education and increasing awareness towards it. The national Gross Enrollment Ratio (GRE) is 24% while the enrollment ratio in Bihar is 13% which is very low. But the state government wants to take it up to 30% and will later increase it to 35% and 40%. The Chief Minister mentioned that the government should take concrete steps towards women empowerment through education of girls.
Under the Bihar Student Credit Card Scheme, all the 12th class pass students can get the loan for further education whether it is technical or general. Besides this, all matriculation (10th) pass students can also avail the facility for funding their polytechnic studies. Education loan up to Rs. 4 lakh will be provided without any interest under the scheme. The loan can be used by eligible students to pay institutional fees, buy books, purchase computers, equipment and more. Also, it is important to note that the interest rate for disabled, transgender and female students is just 1%.
Bihar Student Credit Card Scheme 2022 , Bihar Student Credit Card Scheme 2022
If you have any query please let us know by commenting in below comment box or you can send us message. contact page can also contact
All admission, result and job information released in Bihar will be provided on this website so we googled to come to this website biharjobportal.com Type
FAQ Bihar Student Credit Card Scheme 2023
Who can apply for Bihar Student Credit Card?
Students who have passed 12th can avail student credit card under this scheme.
How much loan can be availed from Bihar Student Credit Card?
Under the Bihar Student Credit Card scheme, students can get loans up to Rs 4 lakh
Can one apply for Bihar Student Credit Card online?
Yes, students of Bihar can apply for student credit card online